This guide looks at how to update the status of quotes sent to clients to help you manage your potential pipeline of instructions.
Please note: In order to create a conveyancing quote you must firstly have a conveyancing calculator setup for your firm. Read this guide for help setting up your conveyancing calculator.
Determine if a client has been quoted at a glance
Your PEOPLE list not only displays your clients and some of their details but also displays if they have been sent a conveyancing quote.
The hyphen (-) indicates that a quote hasn't been created for the client yet

The exclamation mark (!) indicates that a quote has been created but not yet sent to the client

The tick indicates that a quote has been created and sent to the client

How to manage your pipeline of potential conveyancing instructions
Once a conveyancing quote has been created for a potential client, quote statuses can be used to help you manage where the client is in their decision making process.
Quotes can be categorised into the following statuses:
Pending – when quotes are created they are automatically set as pending
Contact Attempted – you have tried to contact the client to discuss their potential instruction
Contacted – you have discussed the clients potential instruction with them but they have yet to make a final decision
On Hold – the client isn't ready to make a decision yet
Accepted – the client has accepted the instruction
Rejected – the client has decided not to instruct
Ready To Instruct – this status groups clients ready for staff to create their case
Acknowledged – this status is particularly useful for informing referrers who have provided a conveyancing quote on your behalf that you 'acknowledge' the referral.
To change the status of a conveyancing quote open the clients person record and next to their quote select the appropriate status from the drop down and then select update.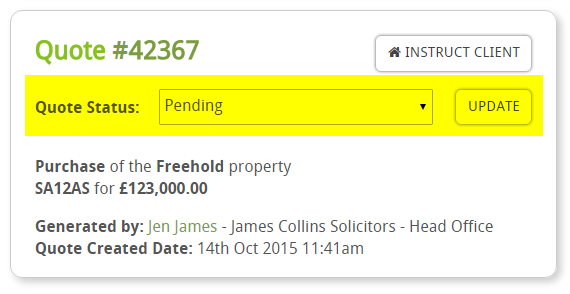 From the PEOPLE list you can then use the filters to display clients based on their quote status.