In this guide we will run through setting up Hoowla's Outlook email plugin. The Outlook email plugin allows you to easily attach emails and their attachments to Hoowla cases at a click of a button.
1. The first step is to download our Outlook email plugin.
Click here to download the Outlook plugin file. 
Once the file has been downloaded then unzip it and double click on "setup.exe" found in the Publish folder. This will install the plugin and it will appear in Outlook (see image below).

2. Now that the Outlook plugin has been installed the next step is to fill in the API Key and Your Email boxes in the plugin. Before doing this you will need to create an API Key in your account in Hoowla or check if you have one setup already.
Please note that each member of staff wishing to use the plugin on their own computers will need to setup their own API Key in their Hoowla account.
To get to the API Key area, when logged into your Hoowla account, click on profile and select edit profile

then select API Keys. If you have an API Key already setup then it will appear in the box (see image below)

If you don't have an API Key setup for the Outlook plugin then fill in the description box entering for example "Outlook Plugin" and press SAVE. Leave the allocate to a Search Provider set to "None".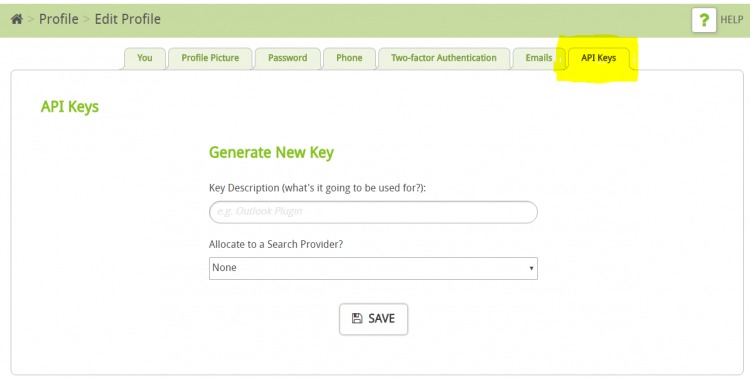 Once you have your API Key copy and paste the key (long set of numbers and characters)

Then paste the key into the API Key box in the plugin in Outlook. Then enter your email address into the Your Email box (please note that this must be the email address you use to log in to your Hoowla account)
Then press the update details button in the outlook plugin.

The outlook plugin has now been setup allowing you to attach emails and files to your conveyancing cases in Hoowla.
To add an email to a case simply select the email in outlook and then press the Add email to case button in the plugin. A dialogue will open allowing you to select the case to add the email to (you can also search for the case you wish to add the email to).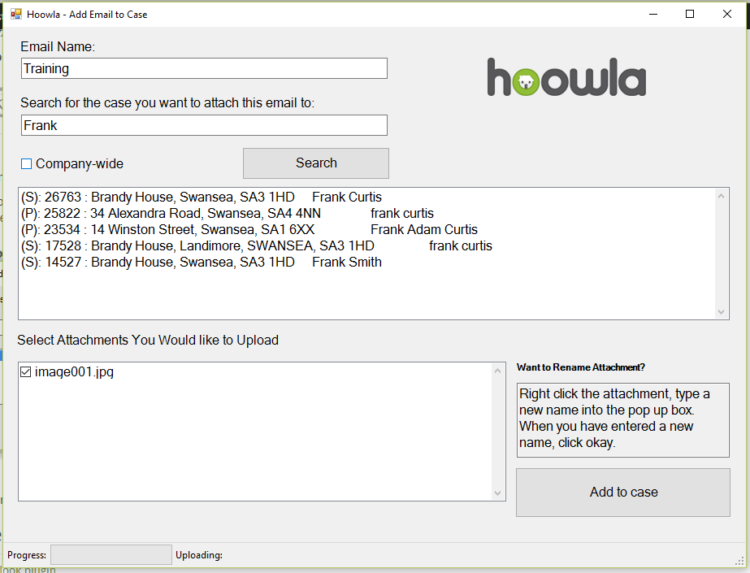 You will find the email and attachments in the Documents list in your case.